Tree Surveys for Safety and Development
As a landowner, you are legally required to manage and maintain any trees on your land, in order to protect people and property from harm.   
There is no denying that trees play a vital role in sustainable living, but they can also present a safety risk if they are not properly managed and maintained.  Depending on the species, a tree can outgrow the space in which it has been planted.  It can encroach on surrounding structures, causing instability and raising the risk of subsidence, and can also suffer from broken branches and falls, all as part of its natural lifecycle.  Storm damage, disease and poor structure are problems that can create further risks.
A tree survey records important information about trees so that any risks can be identified, managed and appropriate restorative action taken, both now and in the future.   
Tree Surveys conforming to British Standards
Here at Ace of Spades, we are qualified arborists, competent in undertaking full tree surveys.  We use the latest, digital technology to measure trees and determine the degree of decay present, in addition to performing full visual inspections. 
All our tree reports conform to BS 5837 and offer appropriate advice and recommendations to keep you and your trees on the right side of the law.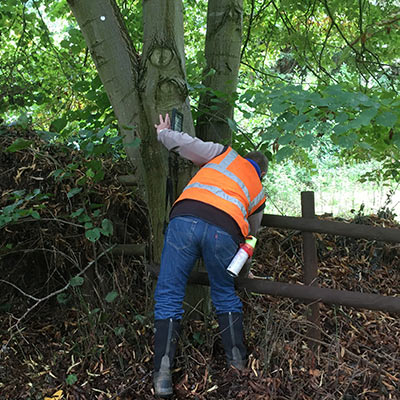 Ensuring the safety and development of trees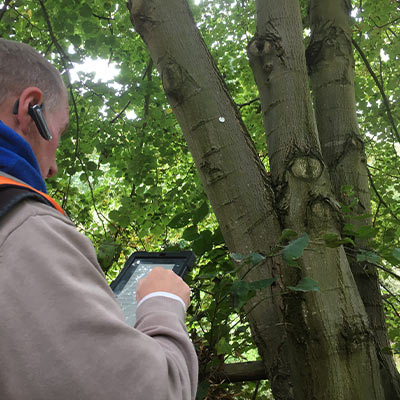 We offer different reports, depending on your individual requirements and circumstances.  Reports can typically be broken down into three categories:
Tree Safety Surveys – for landowners who recognise that the trees on their land have the potential to cause harm to people or property.
Structural Damage Tree Reports – when the roots of trees cause direct damage to buildings and structures, a structural damage tree report will offer insight into how trees and property owners can live harmoniously.
Mortgage Reports – a home buyers tree report is sometimes a requirement of mortgage lenders if a tree has been reported on a survey. It assesses the risk of subsidence and direct damage to buildings and structures.
Tree surgery for risk reduction
carried out by professionals
As a nation of tree lovers, we want to do all we can to protect and preserve trees for the greater good of society.  However, sometimes tree surgery is necessary in order to reduce or remove the risks presented to the public or surrounding structures. 
If, following a tree survey, it is determined that tree surgery is required, then we can carry out the work for you.  We are qualified and experienced in all forms of tree care and undertake an array of practices, including: 
Tree pruning
Crown thinning
Crown lifting of a tree canopy
Coppicing
Pollarding
Tree removal
Tree removal should always be a last resort.  If this action is performed, then you may wish to plant a new tree in its place.  We can discuss this with you and advise on the best species and position for your site. 
If you are a landowner in need of a tree survey, please get in touch by calling 01603 487447.