Ace Of Spades Landscaping
Our aim is to create beautiful landscapes. We can combine your garden with your living space and create a scene of beauty that will bring you joy.
There is no project too large, or too small but always based around the clients' needs and budget.
Have you discovered the true potential of your garden?
Trees and plants bring colour and character to a garden, we select each species with the greatest of care or allow areas of the garden to develop a its own character, the landscape brings us joy season after season throughout the year.
We can help you select plants appropriate to the climate, biodiversity and soil in your garden.
If you invite us to plant your garden you can be assured that you will be given sound advice and guidance from a qualified horticulturist who will help you to make the best decisions for your garden. We work to British Standard 8545 in tree planting.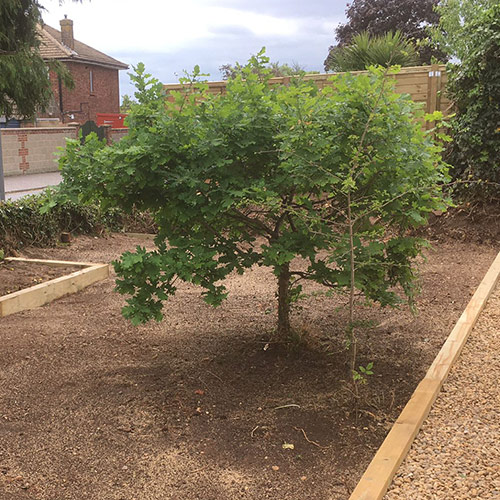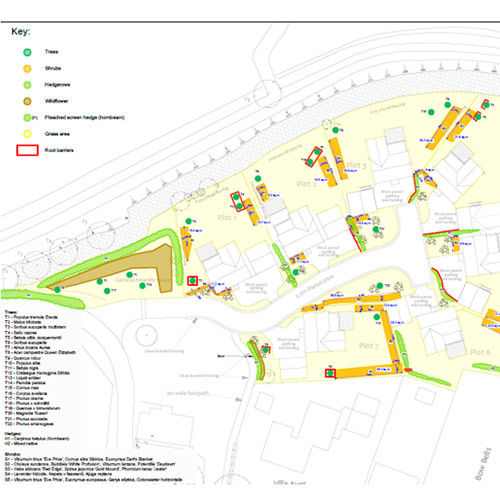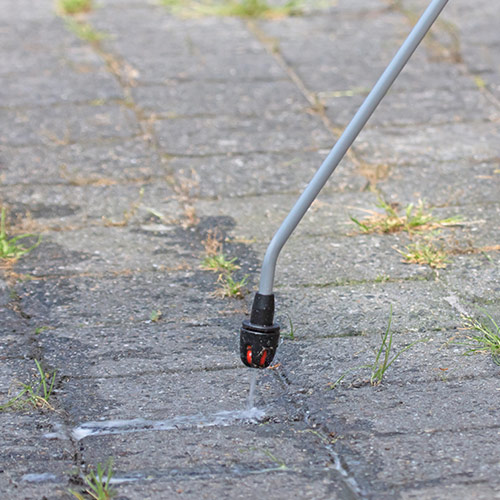 Weed management in landscape plantings is often made difficult by the complexity of having a mix of different plants in a landscaped area. The great variety of species, soil types, slopes, and mulches create the need for a variety of weed management options.
There is also concern about the use of chemicals to control weeds and their effect on water quality if the herbicide moves offsite through runoff.
The use of herbicide is an effective way of removing weeds but there are some safety issues to consider.  Products sold through local garden centres may be insufficient to deal with small patio weeds in most cases and are safe to use.  Other professional products are sold under license and should only be used by those who carry a license to ensure safe and effective use.
There are several invasive plants in the UK including Japanese knotweed, giant hogweed and Himalayan balsam which can create serious problems.
If you find you have these on your land you must comply with specific legal responsibilities to ensure that they don't spread onto neighbouring land or into the wild. Find out more about your legal responsibilities.
Hedge and Boundary Management
Hedging is a beautiful and characteristic landscape feature to a garden, however these can become invasive and overgrown if not carefully maintained.
There are however a few things that need to be considered before work can begin on the pruning or removal of a hedgerow.  Hedgerows provide a natural habitat for many animals and there are rules and regulations that we must abide by.
For example, all wild birds are protected, this includes their nests while being built or in use and any eggs which may be contained within them.  Bird nesting season is usually considered to be between 1st. March and 31st. July and so there is a risk to committing an offence if work is undertaken between these dates.
Our experienced team has a great knowledge of the legislation in relation to hedge and boundary disputes, including guidance on the High Hedges Act 2005.
Hedge laying is a rural method of the management of native hedgerows to ensure that they are sustainable and is compliant with hedgerow regulations.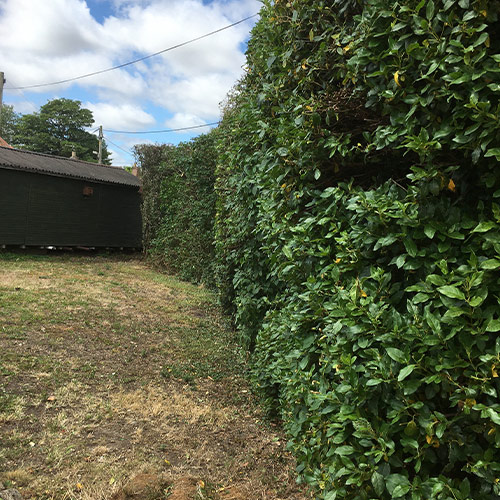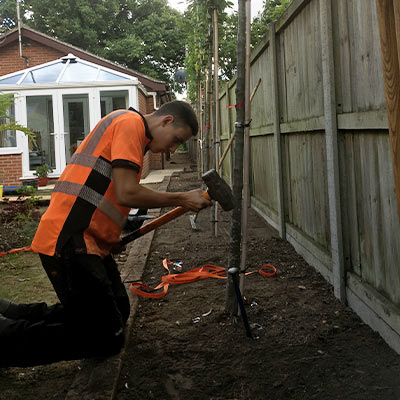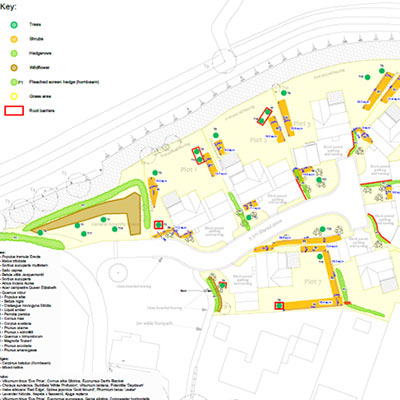 Designing a garden should be fun. It all starts with you sharing your vision, and then working together we develop your ideas, add a few of our own to help you to discover your perfect outdoor space.
A successful garden design will take into consideration all the surroundings, scale and proportions, the balance between hard and soft elements and marry new ideas with what already exists.
Plants play an important part in the design of the garden, together with trees, hedges and shrubs they bring character and colour. We are qualified in horticulture so be assured that any plants which we help you select will withstand the UK climate. Hard landscaping brings structure to a garden and often starts with boundaries and fences but also includes pathways and patios.
We take a practical approach and will guide you towards making the right choices for plants, shrubs and trees.
Whether turfing or seeding it's all about site preparation. This includes drainage, dealing with soil lawn pests and diseases; ensuring that the nutrient and PH of the soil is at its optimum to ensure strong viability of turf or seeding of lawns.
Laying a new lawn is more expensive than sowing seed, but it gives an instant lush looking lawn as soon as it is finished. Meadow turf is cut from an ordinary meadow, it is the cheapest type to purchase but will contain mixed grass types and weeds. We usually advise the use of meadow turf if children or pets are going to use it as it is quite hard wearing.
Specialist turf is a much better quality, it comprises a known type of grass suitable for lawns, and it should not contain any weeds. Turf is best laid in autumn and early spring when the soil moisture content is at its highest. They can be laid later in spring through to late summer, but they will need more attention to ensure they do not dry out.
We offer a full turf laying and maintenance service including the use of artificial grass.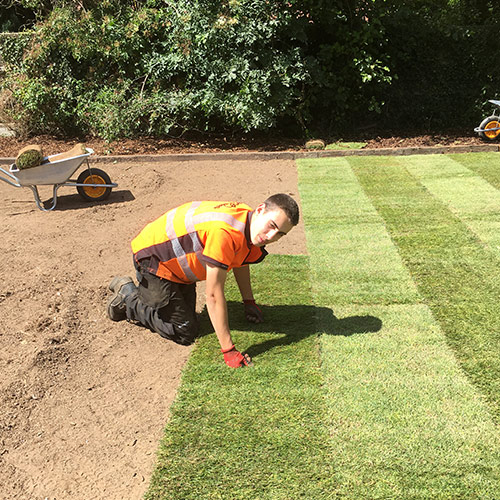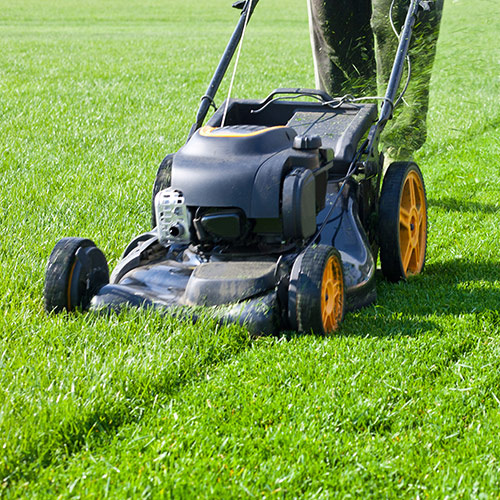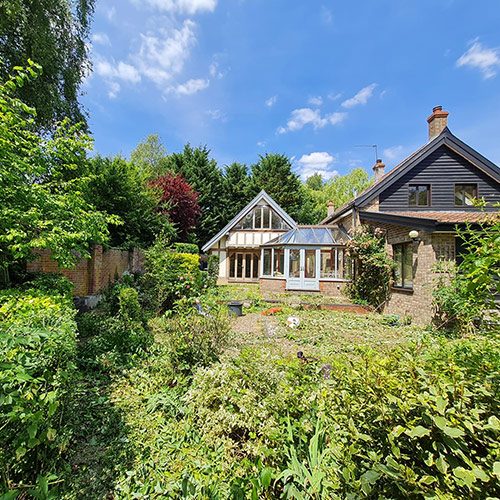 A combination of sunshine and rain can soon turn your garden into a jungle, it quickly becomes overgrown and out of control.
Whether you need a good tidy up or a complete overhaul involving the use of plant and machinery, our professional team will get rid of any unwanted or damaged hard landscaping, trees, shrubs, hedges and borders leaving you with a clear garden to start your fresh new design.
Clearance of garden waste includes disposal for which we are fully licensed.
Gardens can bring us much pleasure, but they involve a lot of hard work.
Many of our customers do not have the time to spend managing and maintaining a beautiful garden and for many of our customers the days of being able maintain the gardens themselves have gone, it's simply too much for them.
We offer a regular maintenance service to ensure that gardens continue to be a place of joy and relaxation, not a burden for those who cannot manage it for themselves.