Trees are of great benefit to the environment, but they can also cause damage to property or personal injury. This is because they may suffer the effects of storm damage, become diseased, have poor structure in general or simply outgrow the space in which they have been planted.
Being living organisms, trees naturally shed branches or fall down. This is a part of their lifecycle. However, a tree survey can help identify weaknesses before problems arise, allowing landowners the opportunity to take a pro-active approach to tree care.
Tree surgery, tree pruning and stump removal are some of the methods you may use to reduce any risks identified.
For more information about our tree surgery services call 01603 487 447 or email [email protected].
Tree pruning for the safe management of trees
Full Qualified Tree Surgeons
Tree pruning is a safe way to manage a tree whilst preserving its structural integrity. 
Diseased or damaged wood can be removed at the earliest opportunity in order to protect the public and the environment from falling branches and to reduce the risk of the problem spreading to healthy wood.  Further pruning may be best performed at certain times of the year, depending on the type of tree.
It is worth noting that some tree species should not be pruned at all and too much pruning of others can increase the risk of decay, so a careful approach to tree pruning is needed.
As a team of experienced tree surgeons, we can advise you on the best course of action to take.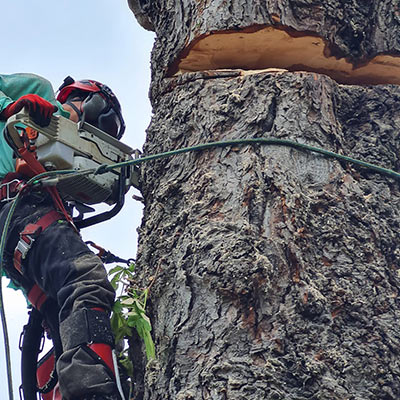 Tree surgery on a large or smaller scale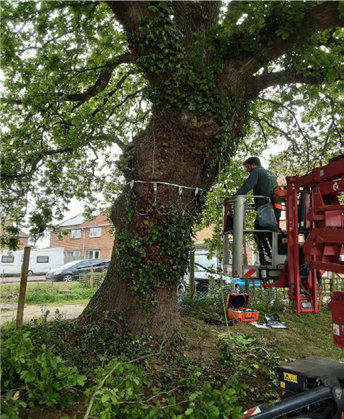 A Complete Range Of Tree Services
When people hear the term 'tree surgery', they often think of a tree being felled to the ground, but tree surgery is a term that encompasses many forms of tree care, with complete tree removal being a last resort option in many cases.    
At Ace of Spades, we offer a complete range of tree surgery services, including:
Tree pruning
Crown thinning
Crown lifting of a tree canopy
Coppicing
Pollarding
Tree removal
We can manage trees of all shapes and sizes and all works comply with British Standard 3998:2010.  If a Tree Protection Order (TPO) is in place or your tree falls within a conservation area, then we can help you make a tree surgery application to the local authority. 
If complete removal of a tree is deemed necessary, then you may wish to consider having a new tree planted in its place.  We will discuss this with you as an option and offer our expert advice on the species of tree we deem best suited to the space and the surrounding areas. 
A professional stump removal service for you
carried out by professionals
If you have had a tree cut down, then our stump removal service will not only reduce the risk of a fall, but allow you to enjoy the beauty of your garden without any unsightly stumps spoiling the view. 
To learn more about our tree surgery, tree pruning and stump removal services, please contact the team today on 01603 487447.