While we might do our best to keep our trees in good shape, it is possible that they will suffer from storm damage. Safety is the priority and here are 5 ways of how to react to storm damaged trees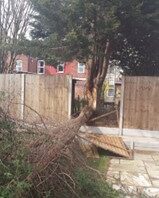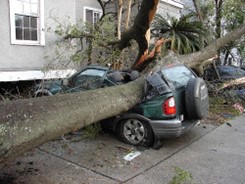 Stand back and keep your distance. This is an unpredictable situation where the mechanical loading of the tree and adjacent trees has changed. Call in an expert. Do not walk underneath as the tree may again fail. But also, nearby gas, electric or water mains may be damaged.
2. A tree that has lost a branch  
The tree branch maybe on the ground but the tree itself maybe still fractured or cracked. So again, call in an expert. The tree normally requires some level of pruning or even removal.
3. Cracked soil near the base of the tree
This means that the tree roots have partly severed and the tree is now unstable. Be aware that nearby gas, electric or water mains may also be damaged. No naked flames near this tree. The tree may be saved in the future.
4. Fallen tree in the road
Please do not sit in your car near the tree. Move away, other trees may follow as the situation is unpredictable. Call the emergency services.
5. Hanging or broken tree branch
No damage…? Well, I recommend you check.
Look at the tree after the storm has passed. This is a lawful duty of care for land or estate owners. Inspect the tree for branches that may have become lodged within the tree. If the tree is covered in ivy this may hide many issues. Sever the ivy and seek advice.