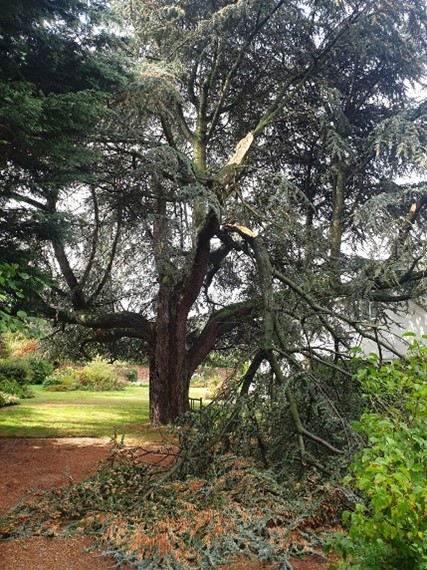 While the team were pruning a holly tree, a lady cycled up and asked them if they could look at her tree as some branches had fallen off. The tree was found to be mature blue cedar next to the tree owners' home.
The guys cleared up and recommended that the consultants take a look, the following week our tree consultant reported on the tree and submitted a planning application for removal.
Simply, the tree had lost its central upright branch over 35 years ago, rotted through the middle, and many upright branches which were now falling. The tree was mechanically compromised and there was a clear risk of failure, potentially falling onto the house.
A planning application for tree works was granted within 3 days and the tree was removed. Sadly, the memories of the tree and wildlife value lost.
What can be done to avoid this?
If your tree is losing branches send us an e-mail with an image of your tree and we will advise.
Trees losing branches is a bad sign and may shorten the life of a tree. 
Have your trees inspected by an expert.