Whilst we enjoy the many benefits of having trees in our gardens, providing shade, bearing fruit and a home for wildlife, they can also become a nuisance for our neighbours when they start encroaching on the other side of the fence. They can create problems including blocking out your light and shedding their leaves all over the garden. Therefore, it's important to know what your rights are, the rights of neighbours, and what you can and cannot do.
Ownership of the tree belongs to the person on whose land it has originally grown. Even if branches or worse still, its roots have begun to grow over or into a neighbour's territory, it belongs to the landowner where the tree was originally planted. Even if the tree bears fruit or flowers on branches which overhang into your land, it's an offence under the Theft Act 1968 to keep them or to take cuttings of flowers.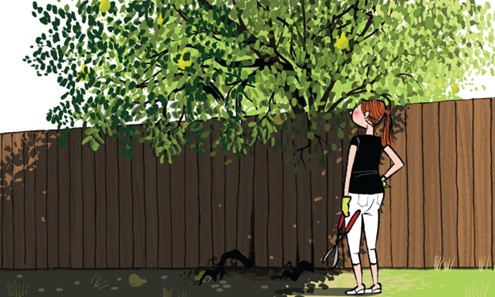 what can you do if the branches of a neighbours tree start to grow over to your side of the boundary?  
You can cut encroaching trees back to the boundary point between you and your neighbour's properties.
However, you must ensure that the tree is not under a tree preservation order (TPO). 
If it is, you'll need to seek further clarification and permission from your local authority before you do anything else.
You are legally entitled to dig up and remove any roots that have encroached upon your land. 
Roots can cause a lot of problems and if they're deep or causing subsidence, or any other form of damage to your side of the property, you might need to get a structural engineer to deal with the problem. 
However, the situation changes if any action taken results in destabilising a tree.
The best way to deal with this kind of situation is to talk to your neighbours about your concerns and agree how the situation can be managed.
While overgrown branches can be irritating, falling out with neighbours and the disharmony this can bring to our lives is not the recommended solution.
Aim to reach agreement through discussing and forming an agreement with the neighbour on whose land the tree was planted.
If you have a problem with a neighbour's overhanging tree and would like to discuss your options please contact us at [email protected].